Esquire: An Astoria Clothing Classic
February 13, 2015
.
6 years ago
.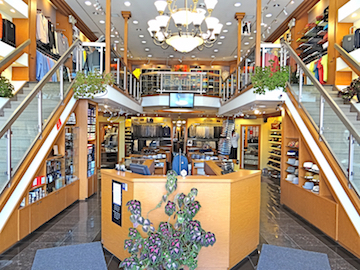 Since 1982, there's a store on Steinway Street that has been keeping Astoria's men dressed to the nines. This classic clothing staple is Esquire – and we had a chance to talk to Frank Adham, who has been a partial owner since its very first day nearly 35 years ago.
"Esquire originally started as a moderately priced store, but we noticed that our customers demanded better, higher quality clothes – so we gradually upgraded our products," Frank tells us.
They soon began catering just to those looking for high quality formal wear. This includes business men, young professionals, and even those looking to splurge for special occasion.
The background of Esquire resides in tailored clothing. Frank tells us that if there's one thing he could tell all men, it would be to have clothes that fit properly.
"Our head fitter doesn't let anyone leave the door without a suit that is perfectly fitted. You can buy the most expensive suit, but if it's not tailored to you, it will look like you're wearing rags!"
Frank tells us that at Esquire, they focus heavily on alterations exactly for this reason. "We're customer oriented, and satisfaction oriented. If someone is buying a suit, we want it to be perfect for them. We want a product that will last them, and fit them, for a long time."
Through the decades, there's no doubt that Frank has seen trends and styles come and go. The biggest change, though? Casual Fridays. "It was like an earthquake," Frank says.
"When we first opened, there was no such thing as casual Fridays. It was a huge change. Now, you could wear casual wear to the office – but that didn't mean any old t-shirt. We began to carry casual wear that was upscale and high quality, without being sloppy.
A lot of our clients now love our casual wear, and it's become an important part of our business."
Frank definitely has an eye for fashion – and an eye for quality. At Esquire, they carry brands like Versace, Hugo Boss, Armani, and Canali.
He taught us a little bit about Canali suits. "Esquire was the first Canali seller – we began carrying their suit in 1984. Immediately, we recognized their quality, and soon our customers did, too.
The market in the 80's was flooded with clothing from Italy, but as soon as we saw Canali, we knew it was different. Their suits had been constructed to survive fluctuation in style – and that is something we wanted."
Then, in 1995, Frank came across Eton. Eton, mostly a shirt brand, is a Swedish company, and they were one of the first to introduce wrinkle free shirts to the market.
"They can take many washes, and still be wrinkle free," Frank says, "And our clients loved that. It made life easier. These were high quality shirts, that didn't require all the maintenance."
Now, after being one of the first to bring them to New York, Esquire is the second largest user of Eton shirts in the Northeast. He proudly tells us, "We carry more Eton products than the actual Eton store!"
Esquire has been around this long for a reason – they know what they're doing, and they do it right. Serving everyone from hard to fit customers, to customers that need an emergency suit in just a few hours, they've learned what works for each person that walks in their door.
Esquire 
30-51 Steinway St
Astoria, NY 11103
(718) 204-1800
Featured in Entertainment
Building Community through Photography Local photographer Amanda Williams armed with a camera, a squad of enthusiastic collaborators, and a surplus of creativity is the mastermind ...