Christian Non Profit Evicts Tenants Before Christmas
December 13, 2016
.
5 years ago
.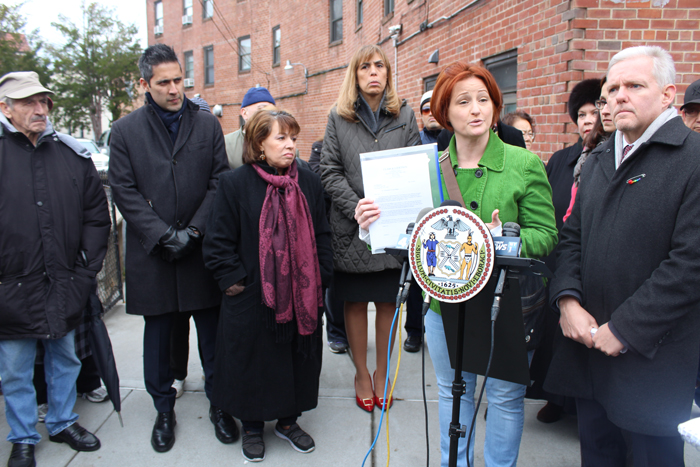 35 tenants of the New York School of Urban Ministry (NYCUM), on 31-10 47th St, have been sent eviction notices. The notices inform tenants that they need to vacate the premises on or before December 31st. The evictions are raising a lot of anger in the community, especially when they come from the Christian non profit which runs the building.
The issue became public when a tenant reached out to Community Board 1 district manager Florence Koulouris. After Koulouris made phone calls to Pastor Peter DeArruda who is executive vice president of the ministry, she found him less than cooperative.
Soon after, an attorney for NYCUM stated that a contract was already signed in order to make the building into a homeless shelter.
It didn't take long until Councilmen Jimmy Van Bramer, Costa Constantinides, Assemblywoman Aravella Simotas and Senator Michael Gianaris were all being contacted about the issue.
Van Bramer, one of few elected officials who take quite a stand against wrong doings came out immediately in protest of the untimely evictions.
According to QNS, Van Bramer said at a press conference, "several days after Thanksgiving, to be told that you will be forced out and potentially homeless at Christmas is heartless. It's cruel."
After contact with DeArruda, by the councilman, the organization had the date of eviction extended to Jan 31st. The catch? Only if the tenants wave their rights to challenge the evictions in court.
Van Bramer was honest about his stand on the matter of evicting a group of people so close to the holidays.
"That is not an act of Christian kindness; that is a gun to your head where you are forced to sign away your rights and your home."
Rents begin at $425, and each tenant had to be approved by 3 clergy before hand.
One tenant, Linda Lane Smith, was stunned at the eviction notice;
"This comes as such a great shock to us at this wonderful time of year….It's Christ's birthday and we are out on the streets. We cannot understand what we did to have this happen. Eighty-five percent of the residents here would be unable to meet with the market price of apartments out there in the world. He just ripped the rug right from underneath us."
There are also misleadings to the profits and maintenance of the property. DeArruda had claimed that there is financial hardships faced by the organization. He
stated that it cannot be run the way it is for much longer. Public records of the property show a different story. The building was completely paid for by 2014 and according to QNS, the organization makes around $200,000 per year from rent.
All tenants in the building are not only referred to by the clergy, but are also expected to get involved with charitable work.
A spokesperson for the Department of Homeless Services (DHS), Lauren Gray, said that the nonprofit had told the agency that missionary students were currently living in the building.
The organization also told the agency that these students would be vacating the units very soon.
DHS immediately stopped all considerations of the property when they found out that the landlord had planned on kicking out the tenants.
Gray also said, "the city has had no intention of pursuing this location since Nov. 17…At the time the city considered this property, it had no knowledge that there were residents living at this location who would be displaced. We are currently working to connect tenants at this location to free anti-eviction legal services."
According to Sateesh Nori, from the Legal Aid Society, no stone will be left unturned before the tenants go to court, ensuring they get their day. However, even if the DHS overturned their interest in the building, it doesn't stop the organization from signing a contract with a privately funded homeless shelter.
Sateesh added that failing every other path, Legal Aid Society will make sure that the procedures are delayed as much as possible, in order to help tenants find more suitable homes.
"I don't believe based on my conversation with the pastor that they exhausted all humane possibilities here, all compassionate, empathetic and Christian possibilities before they decided to use eviction notices," Van Bramer said. "Innocent, good, hardworking people are being tossed out of their homes at Christmas time by a Christian organization because of money."
Featured in Entertainment
For those of you who might live under a rock, this month is Pride Month, and given that COVID robbed us of our traditional celebrations ...