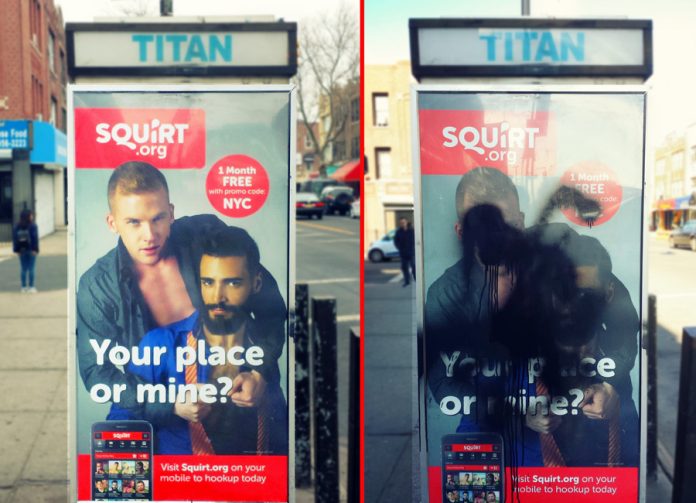 For the past few months there has been an advertisement for a gay dating app on the side of a phone booth on the corner of 34th Street and Broadway. It shows two men, with one unbuttoning the others shirt slightly, and advertises a new dating/hookup platform for gay men in New York called Squirt.org.
However it seems that there are some in Astoria who are opposed to it. For as long as the poster has been up, someone has been continuously spraying black spray paint over it.
Now it appears whoever the individual, or individuals are, they've added what looks like a Swastika onto the advertisement.
In light of the new administration and the overall strong emotions running through the country on both sides, vandalism and hate crimes have begun to rise in the city. Astoria, a much thought melting pot of cultures and diversity still seems like it has a long way to go before being truly diverse on all counts, including sexual orientation.
This isn't the first time there has been a hateful slur for anti LGBT stands. Last December another poster for World Pride Madrid was also vandalized. Councilman Jimmy Can Bramer spoke out against the vandalism and took to the street, cleaning up the poster himself.
The Gay dating app advertisement is right in front of the new Trestle bar that opened its doors a few weeks ago.