Giddy About Gastroteca, Astoria
November 9, 2017
.
3 years ago
.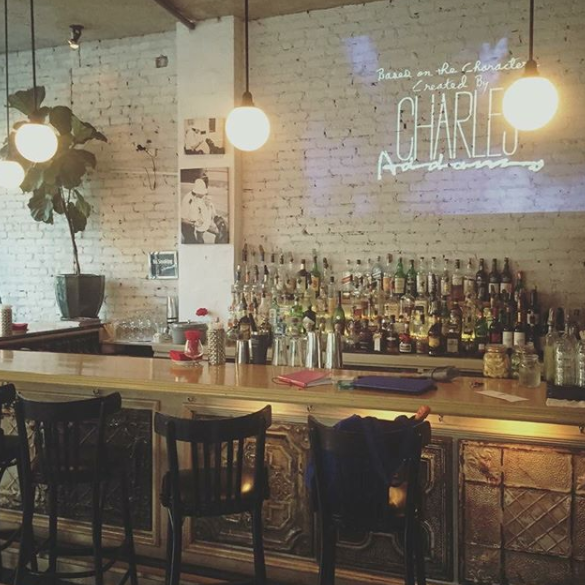 Husband & Wife Team, John Parlatore (Chef) and Jessica King (Manager) have created quite the culinary hub with Gastroteca.
Located at 33-02 34th Ave, the Italian eatery is full of Astorian inspired ambience and love.
The restaurant has a cool rustic feel which is framed by metallic ceilings and black columns along with a Hollywood twist. It's always a treat to come and chill with a friend, a date, or a group. White brick walls add a comforting touch – with a movie always on play projected behind the bar. Open space seating and a mouth watering menu are certainly the 'it' factors here. But the standout is the service. Always with a smile and tentative.
What's on the menu?
Italian fare which satisfies, pretty much. All the usuals are up for grabs; Spaghetti Stracchino, Crispy Gnocchi, Lasagna Bolognese, Cavatelli with little clams-sauce and a delicious spicy house-made pancetta. All of which hit the mark.
The Short Rib Brasato with gorgonzola potato lasagna is a must on our visits.
If you're going for Brunch, go the weekend and fill up on the classics. Including awesome burgers (seriously nice burgers), breakfast, pasta and sides.
For those wanting a Thanksgiving feast, Gastroteca is doing a special just for you. A $49 Prix Fix Menu with your choice of a Pasta course, Carvery Board, Sides and Dessert.
Overall a very satisfying experience with great service that is worth coming back for.
Bon Appetite, Astoria! 
Where: 33-02 34th Ave
Astoria, NY 11106
Phone: (718) 729-9080
Featured in Entertainment
Image courtesy of Gary Vider/Comedy Astoria. The comedy scene in New York is unlike any other. A quick search for your favorite comic, and chances ...